Between April 2022 – April 2023, Breathe were commissioned by South East London Integrated Care System to design and deliver a brand-new Arts for Staff Wellbeing programme, for all health and social care staff working across South East London. 
Over the year, we delivered 79 workshops which involved taster sessions, weekly workshops and bespoke team building projects. We brought a variety of artforms to the mix, including South Asian dance, Street Dance, magic, journaling, drawing, singing, poetry and many more! All of which focussed on improving specific wellbeing outcomes and were co-designed with staff's needs and interests at the forefront.  
We delivered online and in person sessions, in a range of locations including hospital sites and social care units and saw 736 staff attendees in total. We had the pleasure of meeting so many amazing health and social care staff who enjoyed trying something new, connecting with each other, experiencing the many wellbeing benefits of the arts, and having our talented artists brought to their doorsteps!  
 Through ongoing evaluation, participating staff reported:  
100%

of participants across all workshops would recommend to a colleague

 

100%

of participants in our weekly workshops are interested in future workshops

 

Across all workshops, participants rated their level of enjoyment as

9.6/10

 
Our pre and post workshop wellbeing polls (pictured below) from our most recent programmes show how most staff felt tired coming into the workshops. However, after the taking part, tiredness decreased and most staff left feeling relaxed, cheerful, confident and energised!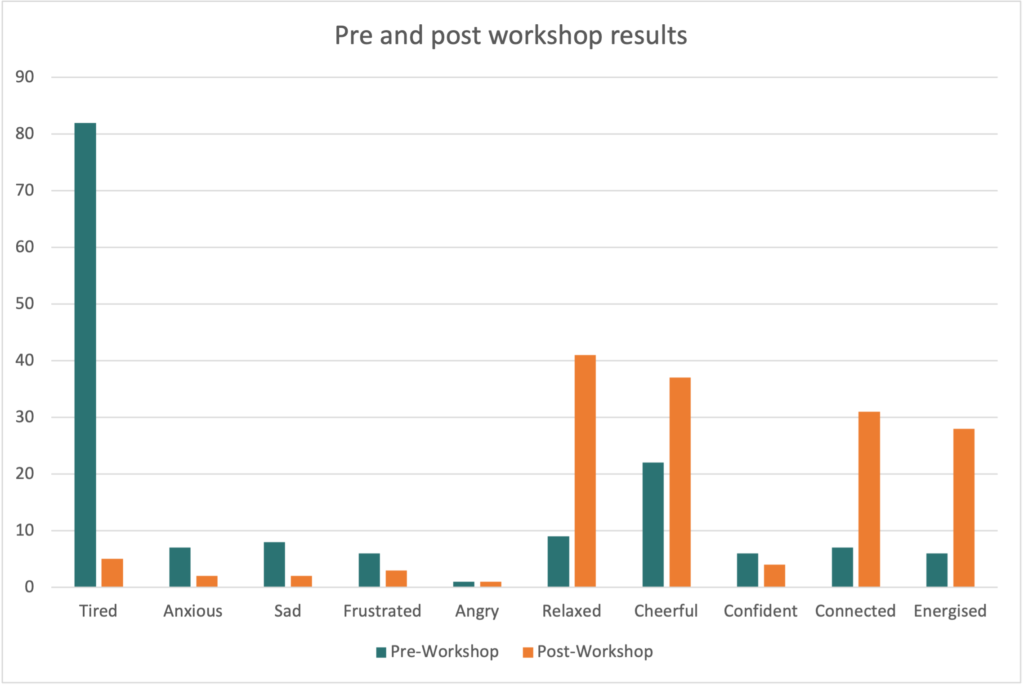 "The dance sessions were such a safe space where everyone seemed to feel comfortable and able to be themselves, and able to push their comfort zones with the support of the room, because we were all doing it together!  It was such a wonderful way to release stress, get out of a work mindset, and have a time for yourself before going into the home mindset. Being fully engaged in an activity like this felt so therapeutic and healthy." 
"The poetry workshops exceeded my expectations and it brought to the surface so many feelings and emotions and it was thought provoking. It was very emotional and I felt this was therapy for some areas in my life. Thank you so much to Arji he was very engaging and incredible too. Thank you so much!"  
 "Song and Sound Journey was so deeply relaxing. It released a lot of stress for me and I could feel it in my body the next day too. It was very obvious. Remembering it the next couple of days gave me the same relaxing feeling."